We had the opportunity to review HomeSchoolPiano – Complete Set of Books by HomeSchoolPiano.
Learning how to play the piano has been on my list of things I want my children to do sometime during their academic journey. I grew up playing the piano, enjoyed it and thought they would too. Although Lily has already composed a few songs, none of my children have been through formal training. One of the reasons is because we live in the middle of nowhere and skilled piano teachers are hard to find locally.
HomeSchoolPiano, an online piano instruction curriculum, brought convenience and private piano lessons into to our home and my children are finally on their way to learning how to play the piano as I did: with a trained and experienced instructor.
Lessons are presented by professional jazz pianist Willie Myette, who is a graduate of Berklee College of Music and has extensive experience in piano instruction. Myette has also been teaching children how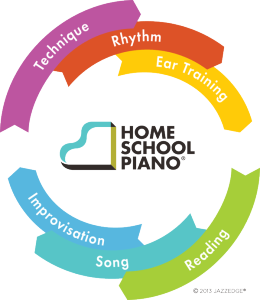 to play jazz on the piano for almost 20 years and has trained adults to do the same. HomeSchoolPiano is a curriculum that is appropriate for all age of student, so don't let the title make you think that it is just for the homeschooled student.
There are three levels: Book 1; Book 2; and Book 3.
Previous piano playing experience is not required. If you have had absolutely no piano playing experience, then CorePiano™ starts a student from the beginning with the basics, so he will be prepared to continue with the regular book lessons.
The curriculum covers six areas of instruction that include technique; rhythm; ear training; reading music; song; and improvisation — my favorite, because some of the greatest masterpieces were born from the creativity that improvisation allows. That is what Lily has done so far. Read more about the areas of instruction.
Lessons may be viewed using an iPhone, computer or tablet/iPad. We used an iPad. Again, since we are able to view the lessons at anytime and as frequently as we like, that just adds to the convenience of the program. There is also no rushing out of the door to the lesson; no worries about forgetting piano music at home; and no expensive fees for the lessons or gas to get you there. We also save a tremendous amount of time, because we would have to dry at least one hour in one direction for lessons.
I think being able to use their iPads for the assigned lessons was, initially, the best part for my children. After that thrill, learning how to play the piano is where they found excitement.
I have to say that the unique way HomeSchoolPiano teaches the lessons is totally cool. There is audio, video and the screen is split to show Myette teaching while on the piano; the key(s) light up on the piano while it is being played; and teaching of the piano.
All three of my children started in the CorePiano™ section, because they had no prior instruction. If you have a beginning student, I would suggest working through the core lessons. Afterall, your membership gives you lifetime, unlimited online access for up to five students, so there is plenty of time to take your time to properly learn how to play the piano.
There are six units in each book that is an easy PDF download. You may view the book online, but it may be easier if you print the pages, so the student has quick access to them during the lessons. The units contain seven lessons that cover the aforementioned areas of instruction. There are also quizzes within the units.
I had the children sit and watch the lesson together and then they each had an opportunity to go through the lesson at the piano by themselves. I sat with them for their independent time. It wasn't
necessary, but I want to be sure the foundation that is being built is solid.
Something I appreciate is Myette's promotion of the improvisation style. I would figure that is motivated by his own jazz playing experience, which can be orderly, but also has that mood type of presentation. My children learned that although there are notes on the page to follow, it is okay to create music according to how you feel.
MY THOUGHTS
I think that HomeSchoolPiano is a good starting point for my children as they learn how to play the piano. Myette addresses important areas of instruction that should be concentrated on when learning the skill. He is entertaining while teaching and maintained the attention of my children. The lessons are thorough and the form of teaching is definitely convenient.
You may try the free starter lesson to get an idea of the six areas of piano playing that are covered in HomeSchoolPiano.
PRICE AND AVAILABILITY
The HomeSchoolPiano – Complete Set of Books is available for $299 or with three monthly payments of $99.97. You get unlimited, lifetime use of all of the material.
Learn more about HomeSchoolPiano on Facebook, Twitter and Pinterest.
You can read more reviews of this item by fellow crew members on The Homeschool Crew Blog.
---